Cable Missionary Baptist Church is located at 314 South Wenzel Street in Louisville, KY.
We hope the pleasure we feel in having you as our guest will be conveyed during your visit. We welcome you, so please don't feel like a stranger, for you are among God's people. May every aspect of our worship bless and encourage you along the journey.
Our Mission: We exist to worship God in his fullness, through Jesus Christ our Lord; to lead the lost to His Saving Grace; to provide opportunity for those who are saved to become faithful disciples; to encourage and nurture sincere fellowship amongst the believers; and to persevere as co-laborers with Christ bringing change to society.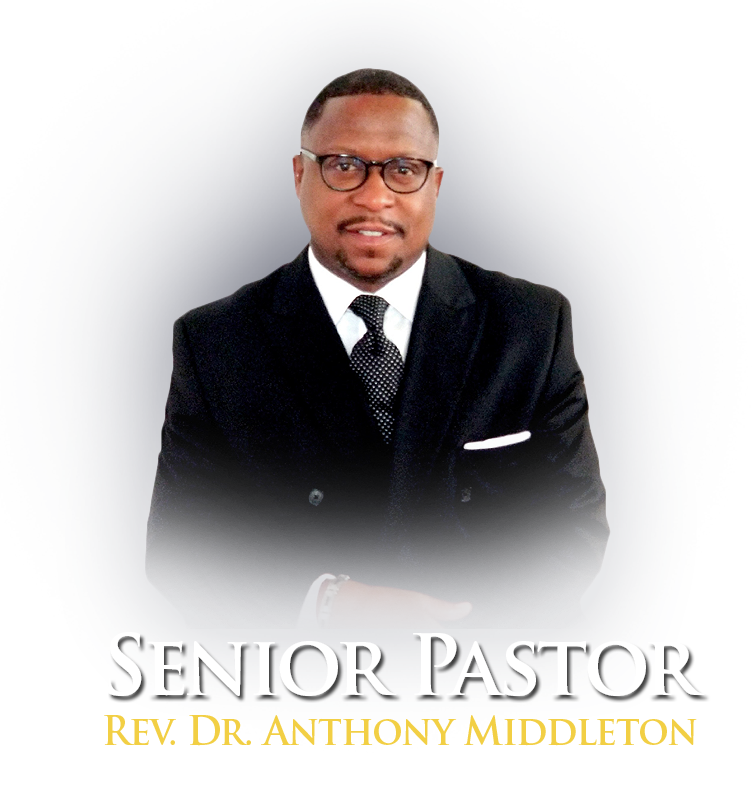 Meet our Pastor
Rev. Dr. Anthony Middleton
Pastor Anthony Middleton is a native of Jeffersonville, Indiana and is the fourth born of six children.  He is married to the former Regina Darby and together they have eight children.
Pastor Middleton is a graduate of Simmons College of Kentucky (Louisville) with a Bachelor of Arts degree.  He later attended Southern Baptist Theological Seminary (Louisville, Kentucky) and Indiana Wesleyan University (Marion, Indiana) and graduated with a Master's Degree in Ministry Leadership.  His Thesis Project was entitled "The Doors Of The Church Are Open; How The Smaller Inner City Church Can Thrive Despite Economic Disadvantages."  In May 2009, he received an Honorary Doctorate from Simmons College of Kentucky.
He has served as Senior Pastor of Cable Baptist Church in Louisville, Kentucky since August 22, 1997. In April 2002, Pastor Middleton led in the construction of the Potter's House Childcare, Recreation & Fitness Center (PHCRF). The PHCRF is a Community Center that houses state of the art work out equipment, an indoor walking track, a commercial kitchen and a regulation size gymnasium that is open to the public with free membership. At the PHCRF, we offer community free time, gym rentals and seasonal basketball leagues. In July 2011, the Cable Church opened the Potter's House Childcare Enrichment Center which cares for children ages 6 weeks to 12 years of age and employs a staff of 12 full and part-time employees.
Pastor Middleton has led in developing over 40 ministries with a focus on ministering to the needs of the community. An additional worship opportunity was added at Mt. Lebanon Cedars of Lebanon Homes, Louisville, KY which is an adult assisted-living facility. Cable Baptist Church employs staff along with volunteers to help maintain its programs, ministries and facilities which include: The Helping Hands and The Miles of Blessings Ministries – two groups of volunteers that feed and clothe the homeless on a monthly basis; The Just Enough Ministry – the clothing and food ministry operated by Cable Church.
Pastor Middleton's ultimate endeavor is to continually expand Cable's outreach to all in need of the Gospel message of Jesus Christ through teaching, preaching, and embracing and utilizing Social Media outlets.
First Lady
Regina L. Middleton
First Lady Regina L. Middleton is truly a blessing to the membership of Cable Baptist Church. She works diligently with her husband, Rev. Dr. Anthony Middleton, in ministry, serving wherever she is needed. Together they have 8 children and have shared over 20 wonderful years of marriage.
Regina received her Bachelor's degree in Business Management from Indiana Wesleyan University/Magna Cum Laude. She is a certified Microsoft Word Processor by Kentucky Technical College and served eight years in the US Navy Reserves as a Hospital Corpsman Petty Officer. She has a servant's heart and is always willing to use her skills and abilities in any way she can. She has been a Sunday School Teacher, Vacation Bible School Leader, and steps in when needed to aid our decision counselors. She is a member of Sacred Voices Praise Team.  She is most noted for writing and producing two plays: Sistah  and Sistah the Reunion.
Regina has a humble, quiet spirit. Though she serves in various capacities, she prefers working behind the scenes. She is a true worshipper and believes in giving God all praise and all honor.
Her favorite Scripture is Ephesians 3:20: "Now to Him who is able to do exceedingly abundantly above all that we ask or think, according to the power that works in us".  When time permits she loves reading. walking, cooking, gardening and traveling.  She is a phenomenal woman and virtuous in all her ways.